Camber Sands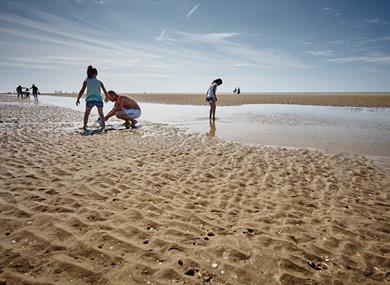 CAMBER
East Sussex
TN31 7QS
This stunning stretch of sandy beach is home to the only sand dune system in East Sussex. Camber Sands is the perfect get-away with unspoilt views of sand and sea stretching for miles.

This beach is famous for the long ridges of sand dunes leading down to miles of soft golden sands. Camber has been the location for many films, especially if 'desert shots' are required. When planning a day on the sands it is well worth checking the local tide tables as the extensive shallows at low tide make for a very long walk before it is deep enough to swim. With such a large open space, power kites are a popular pastime - a very colourful sight to see. It is very busy in the summer months
It is home to the only sand dune system in East Sussex, which provides a valuable natural habitat to many animals and plants.
Access to the beach is direct from a number of public car parks. Parking is pay on entry during the summer period from Easter to the end of September. During the winter months Pay and Display ticket machines operate. The gates to the car park are locked at 8pm each evening. The unbroken length and quality of both beach and sea water enable Camber Sands to accommodate almost every type of beach activity.
There are no lifeguard or emergency facilities on site. There is zoning in place to keep swimmers and water sports apart.
Sea safety
Red Flag - No swimming
Orange Flag - No inflatables
Barbeques
Please care for the beach environment and other users' safety and enjoyment. . Do not use disposable BBQs.
Gas powered BBQs are the only ones permitted on Camber Beach.Use the western end of Camber Sands beach for BBQs.It is illegal to BBQ in the sand dunes.Permission for large numbers (10+) of people should be sought from Rother District Council in advance.
Please ring for further information on 01424 787531.
Horse riding
Due to more people using Camber Sands during the summer season, there is a greater risk of horses causing danger or annoyance.
Horse riding for the summer season is restricted from 24 March to 2 October inclusive. During this period riding is permitted weekdays early mornings (off beach by 0830) and evenings (after 1900)
Riding is permitted around LOW tide hours only. Riders arriving at HIGH tide will not be permitted to use the beach.
Please note that traps or carriages pulled by horse or pony are not permitted on the beach.
Any mess MUST be cleared up and taken away.
Horse riding on the sands is at the discretion of the Coastal Officer based at Camber who can be contacted from 8am-5pm on 01797 225207 or 07714 696218 or email camberoffice@rother.gov.uk