Hastings Fat Tuesday: Umbrella Parade, Under the Radar, Preservation Sunday, Sonics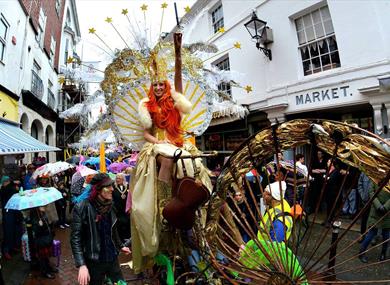 From The Stade to St Mary in the Castle
Hastings
East Sussex
TN343AE
Umbrella Parade
An explosion of colour, music and fun for all the family, The Umbrella Parade is a firm Hastings Fat Tuesday favourite, and all you need to take part is a decorated umbrella.
Preservation Sunday
The culmination of the Umbrella Parade brings festival-goers together to enjoy food and drink and great music, as the rivalry of the four second line brass bands comes to a head in a dramatic play-off.
Under the Radar
Six stages showcasing emerging artists from across the UK hosted by BBC Introducing, Joe Strummer Foundation, Off Axis, ACM, Incubate and Rhythmix.
Sonics
A two-day celebration of avant garde electronic musicElectronic pioneers.
The Radiophonic Workshop head to Hastings on 3 March 2019 to premiere a specially created work as part of the 10th Hastings Fat Tuesday Music Festival