What's Happening in Bexhill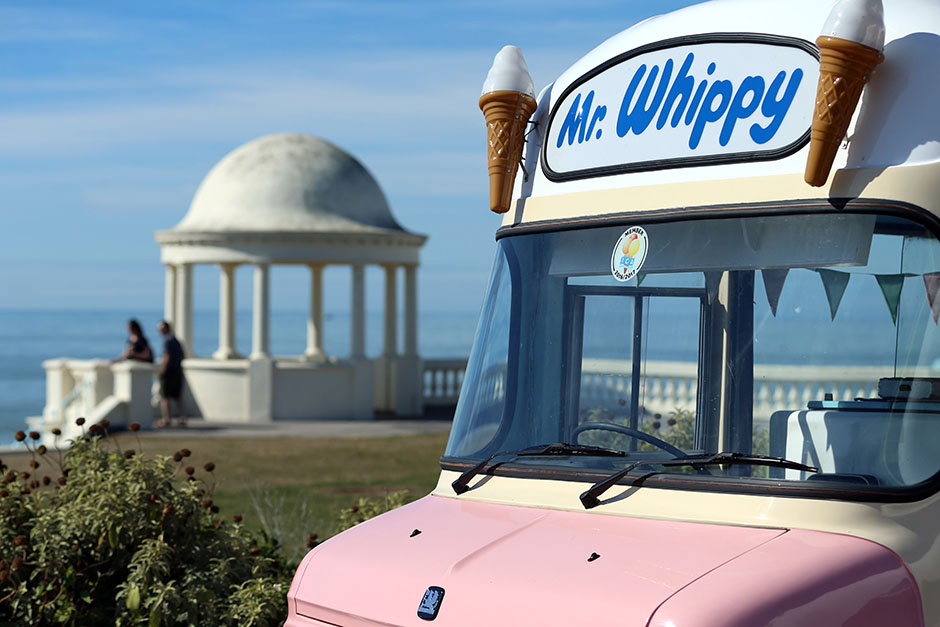 Bexhill on sea is home to the iconic De La Warr Pavilion and bursting with modern history - including being the first town in the UK town to allow mixed sea bathing, the first UK town to host an automobile race and the town where Bob Marley played his first UK show!
Alongside the De La Warr's consistently fantastic programming and Bexhill Museum's fascinating exhibitions there are many other events to entertain and entice you this autumn/winter. We've put together this guide to Bexhill events for visitors near and far to enjoy during the remainder of 2018.
September
September 1st - DJ YODA
Multi-award winning hip hop DJ and Producer DJ YODA will be playing an AV set on the De La Warr Pavilion Beach Terrace as the sun sets, with the visuals projected onto the south wall of the pavilion.
The event is part of Unconvention and in conjunction with Debut, a new annual programme that supports emerging musicians from the local area.
Metropole Lawns (next to the De La Warr Pavilion)
A celebration of the sea, with marine and wildlife conservation at its centre, featuring
Mermaid and Merman gathering with parade
Live music all weekend including Peter Knight's Gigspanner Big Band line-up, featuring the Edgelarks, and Liane Carroll.
Art Fair
Seafood cooking demos
Global seafood cuisine
Free angling coaching
Angling competition
St Leonards Warrior Square station moving on to the De La Warr Pavilion
Based on the idea that the charity shop is the archive of the community, four artists have been working with charity shop staff, volunteers, objects and stories to create a trail of artwork that highlight and celebrate the role of the charity shop in people's lives. Installations are spread across St Leonards and Bexhill.
Join a walking tour of charity shops with Quiet Down There and the four artists. Experience the artworks at each location followed by tea and discussion at the De La Warr Pavilion. Starting at 2pm at Warrior Square Station. To book a place on the tour email: emily@quietdownthere.co.uk
A Quiet Down There project in partnership with St Michael's Hospice, Shelter, Hastings Furniture Service, Hastings and Bexhill Mencap, De La Warr Pavilion, Jerwood and Arts Council England. Featuring as part of Coastal Currents.
September 9th (2pm) - History walk around Little Common
Meet by the Wheatsheaf Pub, Little Common (Barnhorn Road, TN39 4LR). Guided tour and talk by Heather Morrey and Dave Hatherell. £3 adults/£1.50 accompanied children.
September 15th and 16th - Anglo/Continental Street Market
Now in it's 19th year the Bexhill Anglo Continental Market is very popular both with shoppers and traders. Devonshire Road is closed to traffic and for two weekends a year (May & September) it becomes the venue for a real Continental Street Market. Around 50 traders at the market bring the taste and smells of the Continent to Bexhill. We have genuine French traders and many local traders and crafts people including soft furnishings, home made cakes, handbags, cheeses, shoes, scarves, crockery, basketwork and much more. Also, as in previous years, some classic cars will be on display.
September 16th - Bexhill Wheel & Walk
A new fun, friendly and colourful event will be taking place along the Bexhill promenade on Sunday 16th September. It's for mobility scooter users, wheelchair users, walkers of all ages, shapes and sizes! Everyone's welcome, regardless of mobility level.
Organised by the Bexhill Lions Club, this non-competitive event will start at the Bexhill Sea Angling Club and finish at the iconic De La Warr Pavilion terrace. The event will be led off by a grand parade of mobility scooters, which should be a really impressive sight.
Lion President, Clare Kersley said, "This is going to be a great community event. It's for everyone, walkers, mums and dads with prams but in particular we want to encourage mobility scooter and wheelchair users to take part. We hope that by bringing people together in a safe, sociable and supportive environment, this event can play a small part in helping to combat loneliness and isolation in our community."
September 29th - Afternoon at Bexhill Museum
Talk by Ken Brooks - The Early Development of Hastings. Contact the museum for booking & prices.
September 30th (2pm) - History walk and talk
Meet by the War Memorial, Marina, Bexhill. Learn about Bexhill life at the end of the Great War with guide Dave Hatherell. £3 adults/£1.50 accompanied children.
October
Grace Pailthrope, Reuben Mednikoff and the birth of Psychorealism, De La Warr Pavilion Ground Floor Gallery - until 20 January 2019
Dr Grace Pailthorpe (surgeon psychoanalyst/artist, 1883-1971) and Reuben Mednikoff (artist, 1906-1972) began collaborating in 1935. From that year until their deaths, they produced a huge body of work that included startlingly vivid and wildly experimental paintings and drawings, often paired with in-depth psychoanalytic interpretation, as well as autobiography, poetry and short stories. They spent decades of their lives researching how the visual and literary arts might liberate individuals and societies from the constraints that sickened and impoverished them, together developing a creative process that combined Surrealism with psychoanalysis, bringing artistic and scientific thinking together.
October 18th - The Feeling at the De La Warr Pavilion
The Feeling have announced that they will perform their celebrated million-selling album, 'Twelve Stops And Home' in full across the UK this October, the band's first tour for over two years.
October 20th - afternoon at Bexhill Museum
Understanding Geology - talk by Ken Brooks. Contact the museum for booking and prices.
November
November 30th - Shining Lights Christmas Switch On
The annual switch on of Bexhill's festive lights.
November 10th - afternoon at Bexhill Museum
The Mysterious Maya - talk by Ken Brooks. Contact the museum for booking and prices.
December
This popular fun family festive event is open to all ages and abilities. The De La Warr Pavilion and Bexhill's seafront will again be the setting for this sponsored event. So get into the festive spirit, whilst raising vital funds for your chosen good causes. You can run,jog, walk, push prams, walk the dog or use a wheelchair on the flat user friendly promenade. There will be awards for the best decorated pram, wheelchair and dog.
The Sauntering Santas will 'dash' (at their own pace) along the seafront towards Brookfields Road, returning to the DLWP terrace, a distance of 2km (1.2miles). Or for those Santas keen to get in training for their busy Christmas deliveries can go on to Galley Hill then turn back to West Parade Toilets and return to the terrace. A distance of 5km (3.1 miles).
Entry includes a free Santa outfit which can be collected on the two Fridays before the event at the Friday market. Full details and how to register will be on the Club website early September.
All proceeds from the event will go to the Bexhill Lions Club Chairtable Trust Fund which supports deserving causes within the local community.
December 21st - The BBC Big Band at De La Warr Pavilion
Join the internationally acclaimed BBC Big Band for a fun-filled programme of festive favourites, with a Swing twist!