Emergence Festival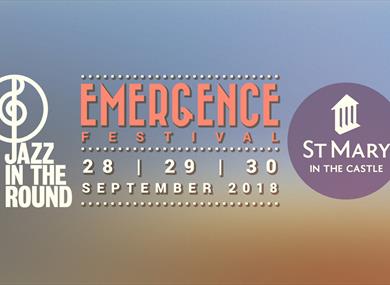 St Mary In The Castle
6-8 Pelham Place
Hastings
East Sussex
TN34 3AF
Jazz for a burgeoning music scene in a resurgent town.

Jazz In The Round is taking over this stunning Hastings venues for 3 days of Jazz.

Oh we do like to groove beside the seaside…


28 September - Denys Baptiste Quartet & Elliott Galvin solo set
Denys Baptiste - Saxophone, Nikki Yeoh - Piano/ Keys, Larry Bartley - Bass, Rod Youngs - Drums
After almost two decades experience at the forefront of the British and European Jazz scene, Denys Baptiste still brims with the confidence of a youthful spirit. With a stellar band that fires on all cylinders and a new home at Edition Records, Denys' career continues to grow and blossom.
Elliot Galvin
Elliot Galvin is one of the rising stars of UK jazz. A superbly gifted composer and pianist, whose maverick imagination and magpie like ability to blend a disparate world of influences into his own unique musical vision has seen him compared to Django Bates.

29 September - Jean Toussaint Young Lions & Arthur O'Hara Trio
Grammy-winning saxophonist Jean Toussaint first came to prominence when he joined Art Blakey's Jazz Messengers in 1982, after studying at the prestigious Berklee College of Music in Boston. Since moving to London in 1987, Toussaint has released ten critically acclaimed CDs as a leader.
Chiminyo creates revolutionary electronic dance music that has been blowing crowd's minds across London. He uses drumming skills to trigger samples, loops and textural sounds; the result is a rhythmically rich, infectiously groovy and visually stimulating live, one man show.
Arthur O'Hara Trio
Electric Bass - Arthur O'Hara, Tenor Sax - Chelsea Carmichael, Drums - Ed Harley
A new London based Jazz, Funk, Rock trio, drawing on influences such as Thundercat, Sons of Kemet and Janek Gwizdala. The trio recently performed at the Love Supreme Roundhouse day festival and were described as a "festival highlight".

30 September - Alina Bzhezhinska Quartet & Jamie Murray's Beat Replacement
Mike de Souza Trio - 12noon
This new trio led by Guitarist Michael De Souza, will be performing all new original music that draws upon sounds from contemporary jazz, rock and free jazz.
8pm - Alina Bzhezhinska Quartet, Kim Macari and Beat Replacements

Originally from Ukraine/Poland and now based in London, Alina Bzhezhinska is an internationally renowned harpist. She has performed with leading classical and jazz musicians such as Shabaka Hutchings, Django Bates, Miguel Atwood-Ferguson and the Glasgow String Quartet. Her duo, with award-winning jazz vocalist Niki King, has supported Gregory Porter.

Originally from Fife, Scotland and now based in London, Kim Macari is a musician and composer immersed in the jazz and improvised music scene. Whether as a performer, teacher or a producer, her passion lies in the strength of improvised music as a means of expression and a form of empowerment and freedom.
Beat Replacement is a modern jazz fusion group led by the UK's rising drummer talent, Jamie Murray.
With a solid groove style yet an open minded approach to free experimentation, Jamie and his all-star band bring a heavy amount of fire and intensity to each performance- with Zhenya Strigalev 'exploring and pushing the limits of the Alto Saxophone', David Preston playing guitar 'like a man possessed', Tomasz Bura 'injecting heartfelt beauty and colourful soundscapes' and Kevin Glasgow filling the background air 'like a sonic boom'.
Beat Replacement have quickly earned respect as one of the UK's most exciting new bands with their forward-thinking approach & exhilarating live show.
Tickets are £12 per day or £25 for a weekend ticket that gives you access to all 3 days