Automata on the Pier with Cabaret Mechanical Theatre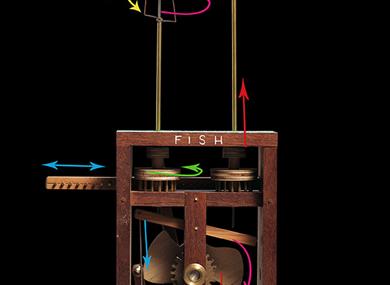 Hastings Pier
Hastings
East Sussex
TN34 1JU
Cabaret Mechanical Theatre, famed internationally for its extraordinary collection of automata, comes to Hastings with an exciting new exhibition of mechanical toys and many other marvellous, magical inventions.

In collaboration with Hastings Pier and the community interest arts company, Culture Shift, Automata on the Pier will feature work by renowned artists as well as artworks created by members of the Craftivist Network.

Exhibition highlights include Matt Smith's swimming fish, Peter Markey's wave machines and Paul Spooner's famous spaghetti-eating man in a bath! Both Paul and Peter created pieces for Sue Jackson, the endearingly eccentric artist, who owned and ran the original Cabaret as a craft shop in Falmouth, Cornwall in 1979 before moving in 1984 to Covent Garden, where for over 15 years it acquired a cult following and attracted visitors and collectors from around the globe.

Sue's daughter Sarah Alexander is now Cabaret's director and has curated automata exhibitions world-wide including Japan, USA, as well as the UK. Sarah is proud to be curating Automata on the Pier, and invites you to marvel at these colourful, humorous and thought-provoking masterpieces which come to life at the push of a button, a turn of a handle or the drop of a coin.