Installation has begun of the impressive oak sculptures that will be an integral part of a major makeover for a long-distance walk in East Sussex.
In a project led by Rother District Council, the 31-mile 1066 Country walk, which begins at Pevensey, passes through Battle and ends at Rye, is being transformed into a major visitor attraction thanks to a grant of more than £160,000 from the European Agricultural Fund for Rural Development and Rural Payments Agency.
Key to this revamp are numerous bespoke pieces of art that are being created by East Sussex sculptor Keith Pettit to mark key sites along the route. Taking the Bayeux Tapestry as his theme, Keith has spent months working on a series of large impressive wooden sculpture trail pieces. A few of those sculptures are now completed and have just been installed on the walking route.
"It really is a thrill to be working on this project and to be adding something creative to fit within and reflect the wonderful local landscape," said Keith.
The first, a representation of Halley's Comet, which appears in the tapestry, has been installed in its new home on the 1066 Walk pathway at Herstmonceux Castle, near to the Observatory Science Centre, which was once the national observatory. It is a huge squared oak obelisk, charred to represent the night sky, with a bright carving of the comet on its side.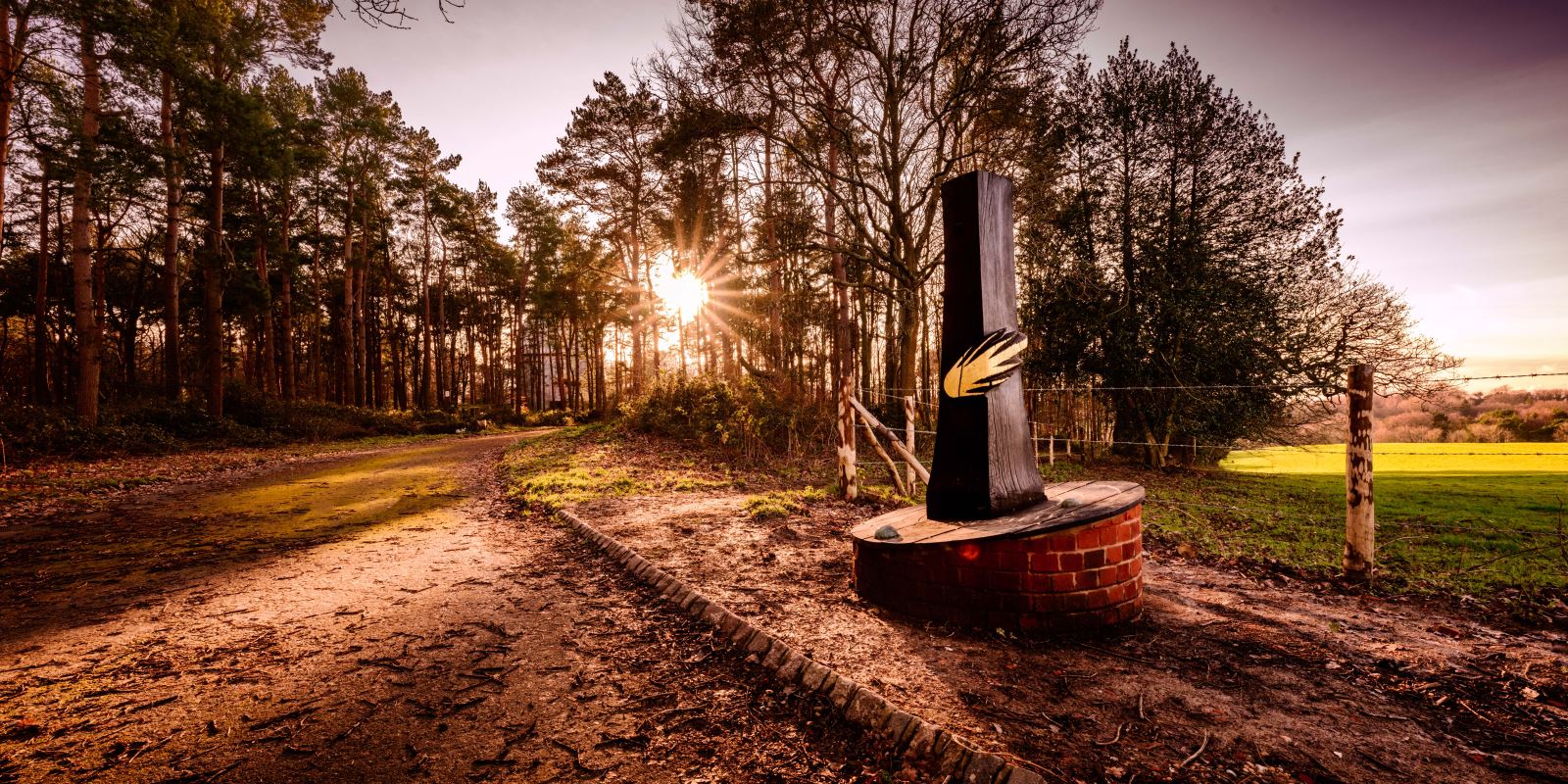 "The comet was known as an ill omen, a portent of doom and change," said Keith. "William the Conqueror cleverly used it as a sign that his invasion had God's blessing."
The other sculptures installed this month include a tall representation of a man, divided down the middle by an arrow, but united at the top by a single crown. This, Keith explains, depicts how, while they were divided by conflict, William and Harold were united by their desire for the crown. Its new home is close to the battlefield in Battle, by Battle Abbey, where the two armies fought over the future of the country.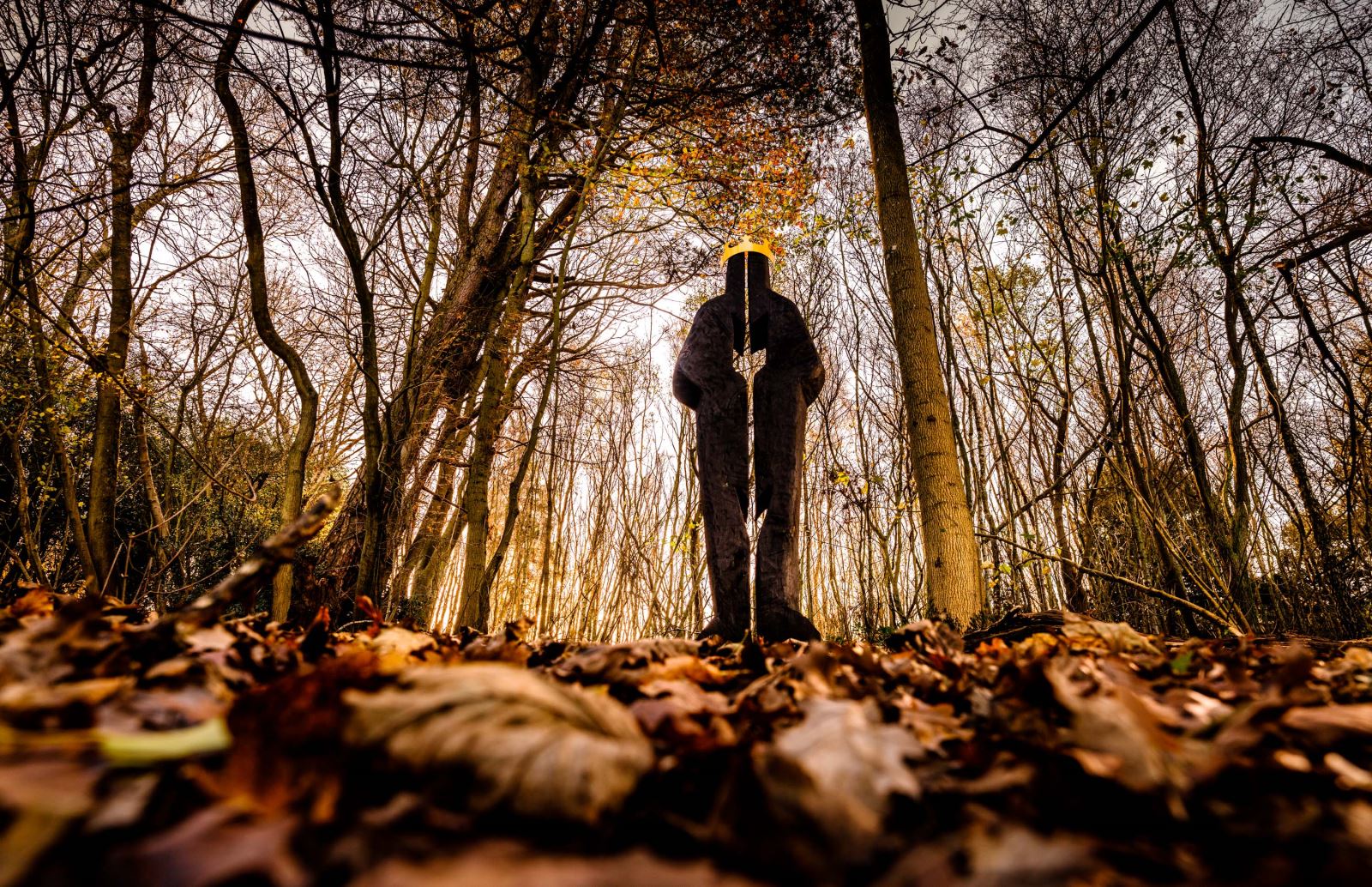 Another sculpture, a wooden henge with six carved monoliths, will be planted out with new Hawthorn trees and has taken pride of place at Hare Farm in Westfield. It represents the trees featured on the Bayeux Tapestry. And guiding walkers to one of many great refreshment stop-offs at Great Park Farm in Catsfield, a large sculpture featuring exotic animals like those embroidered into the historic tapestry.
"With each of these sculptures there's a back story and in each case there's creative symbolism within the design," said Keith. "I want them to be attractive as pieces of art, but also to be accessible and engaging for people. I don't want people to have to work too hard to understand what's going in in the sculptures but I do want them to work on different levels and give people the opportunity to explore the meaning of what I have created."
Rother District Council's Lead Cabinet Member for Culture and Tourism, Cllr Hazel Timpe, said: "These sculptures are amazing. They are impressive works of art and show the creative talent and vision of the artist, Keith. They are visually striking and are a superb addition to the landscape and this historic walk. Our aim is to breathe new life into this walk and make it a key visitor attraction, as well as a boost for our local economy."
Keith's remaining sculptures and seating, along with over 80 pathway signage pieces by Sussex Signs Ltd, will be completed and installed over the next four months.
Project lead, Rother District Council's Cultural Development Officer, Donna Hall, said: "I've thoroughly enjoyed this project and delighted we've reached installation stage. During these unprecedented times, we envisage this inspiring 1066 Walk pathway will become invaluable for everyone's physical and mental health and wellbeing, as well as supporting our rural businesses long term, highlighting fabulous places to eat and to stay along the 31 miles through Rother and into Wealden.
"We're delighted with the stunning sculpture trail created by our sculptor Keith Pettit and beautiful illustrations of Ness Mann, for our walker's guide. Ness's illustrations will also appear large scale on the pathway information panels. We're so grateful to key partners East Sussex Rights of Way, Wealden District Council, 1066 Country Marketing, English Heritage, the National Trust, Forestry England, Herstmonceux Castle and our many local rural business partners for their support throughout.
"We continue to work closely with our commissioned project consultants Mandy Curtis and Naomi Robinson of 18 Hours Ltd and Andy Gomm from Sussex Signs Ltd, who have gone above and beyond to ensure we deliver this project successfully by spring 2021, through what has been a very difficult year for everyone."
This blog post was written in December 2020 – for progress updates see the main 1066 Country Walk page.
Related