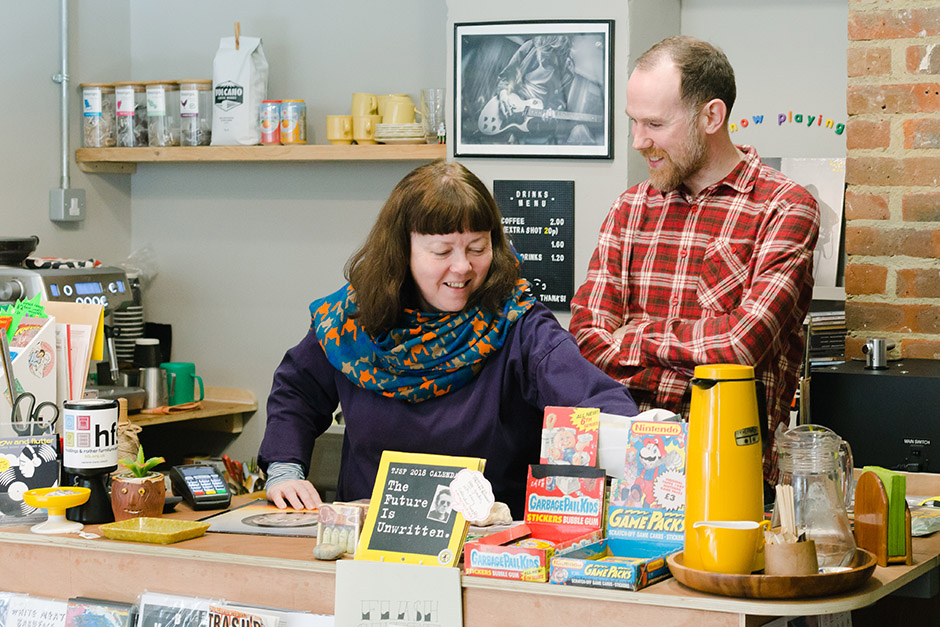 You may have heard that there's a vinyl revival, but for some people, it never left!
Wow And Flutter is a record shop with comics, art, Japanese toys and great coffee thrown in the mix - making it the perfect place to while away an hour or so when visiting the America Ground, Hastings. Owners Susan and Tim tell us more about their business and what it's like being based in the area:
Tell us a bit more about your business

T: The idea was to create something that ticked all our boxes - a record shop that you'd want to spend time in and return to. A place that didn't just sell records.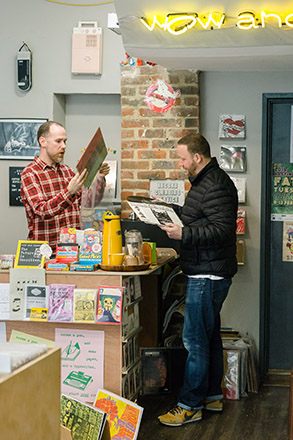 S: It was important to us that we made a record shop that was welcoming to anyone of any age, where families felt like they could bring their kids and that wasn't male-dominated or off-putting for young women in particular. We wanted it to be a community space, a place where people feel they can drop in and have a nice time, not be pressured to spend lots of money - but if they find something they want to buy, great!
T: We've got a 50p comics section for that reason - we want to be able to offer something to everyone, for parents to let their kids choose something if they want.
Our £1 singles section is really popular and is full of amazing records by the likes of Queen, Blondie, Elvis Costello, Herbie Hancock and The Beatles. People often come and grab a few of those every week. It's also a way to discover stuff without a big outlay.
S: We get a lot of young people in from the Source Park, which is fun. They leave their skateboards at the door and get stuck into the records and comics. Wow And Flutter is intended to be a place that we want to work in, as owners, everyday as well; there are a lot of elements of us and our home in the shop, things we like to have around us. Tim used to live in Japan where there are often specialist shops that stock carefully chosen things that make up a 'slice' of a certain type of person.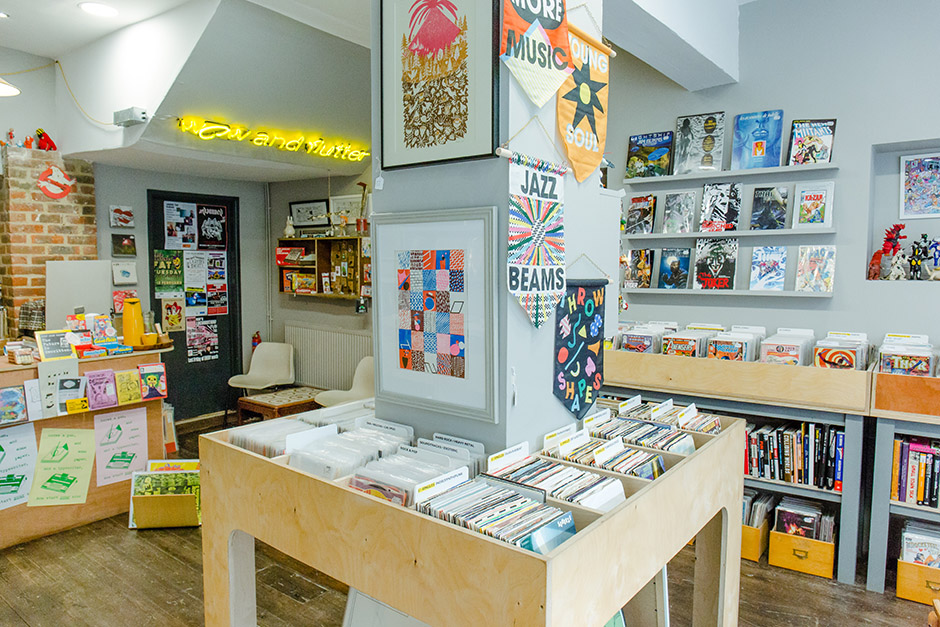 T: I would agree - there are influences of that Japanese aesthetic in here - whether a customer is here for the records, Japanese monster toys, comics or art, they usually find loads more things that they're into, and we put a lot of thought into selecting items we stock. It often works for couples where one is into one thing, the other will often find something they like too. We host events in the shop: gigs, spoken word, DJs and exhibitions... we had a great Q&A session with Will Carruthers of Spacemen 3 and Spiritualized. We want to do more of these!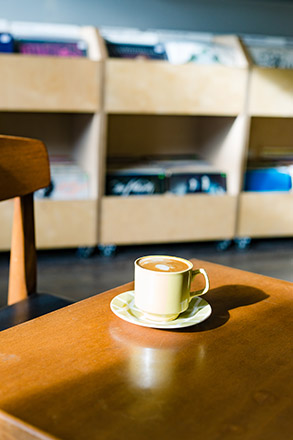 S: It has to be stuff that fits and works for us, but we do want the space to be used - part of the community element of the shop is that we give the space away for free. We try and coordinate this with the many events that go in the town too, hosting satellite events or DJing in other venues.
What's it like being based in The America Ground?

S: We love it! It was always our intention to open our shop in the America Ground, right from when we first started visiting Hastings before we moved here. There's a real sense of community.
T: The area was quieter when we first moved in here four years ago and I'm glad that many more people are seeing what we and the longstanding businesses here see. If we had to move from this premises I would do everything I could to make sure we stayed in the America Ground.
S: It's a somewhat alternative area, and that's good for us. If you scratch the surface you discover all the creative stuff that's going on here that isn't immediately obvious. People live and work here, and they are passionate about being here. There's a definite sense of ownership and it didn't take long for us to feel that too.
What's your favourite thing about Hastings?

T: For me, it's a fairly small town and population but there's so many interesting people here. There are all kinds of eccentric ideas going on, unlike any other seaside town I've lived in.
S: I like it because it's unpretentious.
Where in Hastings do you visit on your days off?

T: We like to go The Printworks in the evening and we like eating in Rustico and Bullet.
S: We also like to go for walks on Hastings Pier.
Do you have a top tip for visiting The America Ground and White Rock?

T&S: Borough Wines has an amazing downstairs venue!
Wow And Flutter can be found at 8 Trinity Street, Hastings TN34 1HG
View the interactive guide to the America Ground and White Rock area of Hastings here