The America Ground is an area of Hastings that has a great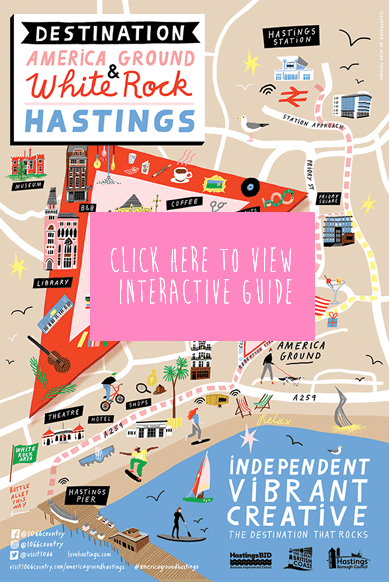 past and an amazing future. After the great storm of 1287, a great silt and shingle spit was formed after the port was blocked up. It became a piece of no-man's land, falling as it did outside the boundaries of Hastings Borough, and by 1822 approximately 1000 people were living there tax and rent free in a community of thriving but ramshackle buildings. This galvanised the council into action, but taking inspiration from the recent American Revolution, the residents reacted defiantly, declaring themselves independent from Hastings as the 'twenty-fourth US state' and hoisting the Stars and Stripes flag. The America Ground was born and though the ramshackle buildings may have disappeared, its spirit of independence lives on.
Around the area of Trinity Street and Claremont are established traders selling everything from organic, vegetarian, vegan delights to fancy dress and top of the range musical instruments. These jostle alongside some new kids on the block where you can get a haircut or beard trim or even a tattoo by a world renowned tattoo artist. Independent restaurants and cafes serve dishes ranging from three course meals to pancakes and the area boasts the only Borough Wines established outside London. You can pick up great coffee in some unexpected places too, while browsing vinyl collections or comics. The area doesn't close down at night either. Cool clubs and bars offer a wide range of entertainment in the evenings.
And don't forget to look up as you walk along. Among many of the sights on offer, Hastings Library, The Printworks and Holy Trinity Church are an architectural delight. These lead you through to the RIBA Stirling Award-winning Hastings pier and The Source, transformed from its origins as a Turkish baths into the biggest underground BMX and skate park in the world. A wonderful scenic stroll to the seafront from Hastings station.
Destination America Ground & White Rock, Hastings is ready to welcome you. Navigate your way around Destination America Ground with our interactive guide - come visit.

How to get to Hastings
Hastings is quick and easy to reach direct from central London by Southeastern Railway. In little over 1 hour 30 minutes you'll be strolling along the seafront. Just a short walk from the station, you'll pass through the America Ground and all its delights on your way to the beach! For tickets and offers see here.