A special ceremony has marked the launch of the 1066 Country Walk—to bring history to life along the 31-mile route. Bespoke sculptures and new signage, seating and information boards will guide visitors as they unearth the history of William the Conqueror and his invading Norman army.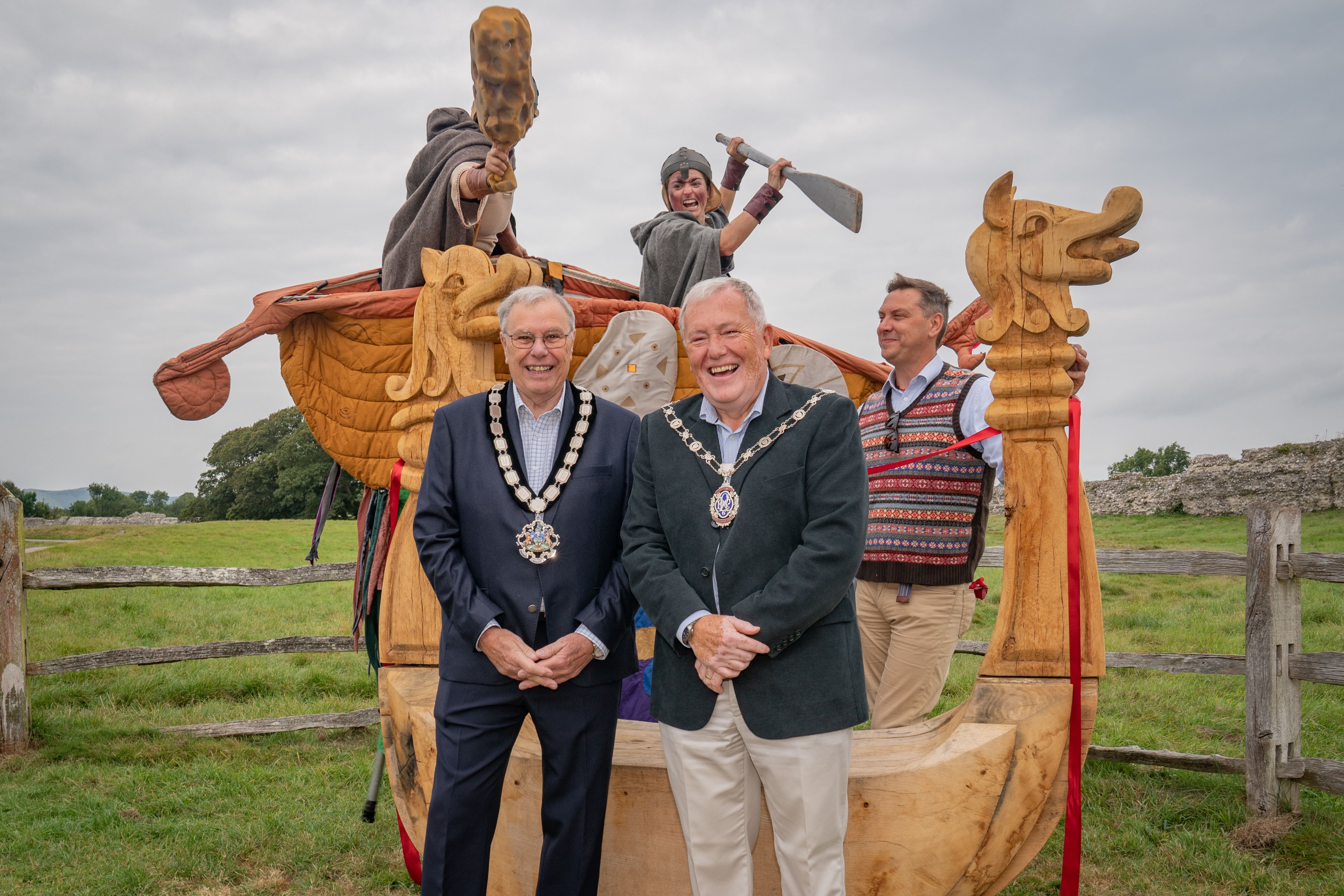 Wealden District Council chairman, Cllr Ron Reed, and Rother District Council's chariman, Cllr Brian Drayson get photobombed at Pevensey.

The route, which begins at Pevensey, passes through Battle, and ends at Rye has been transformed as a visitor attraction thanks to a European Agricultural Fund for Rural Development grant of more than £160,000 to support rural tourism infrastructure.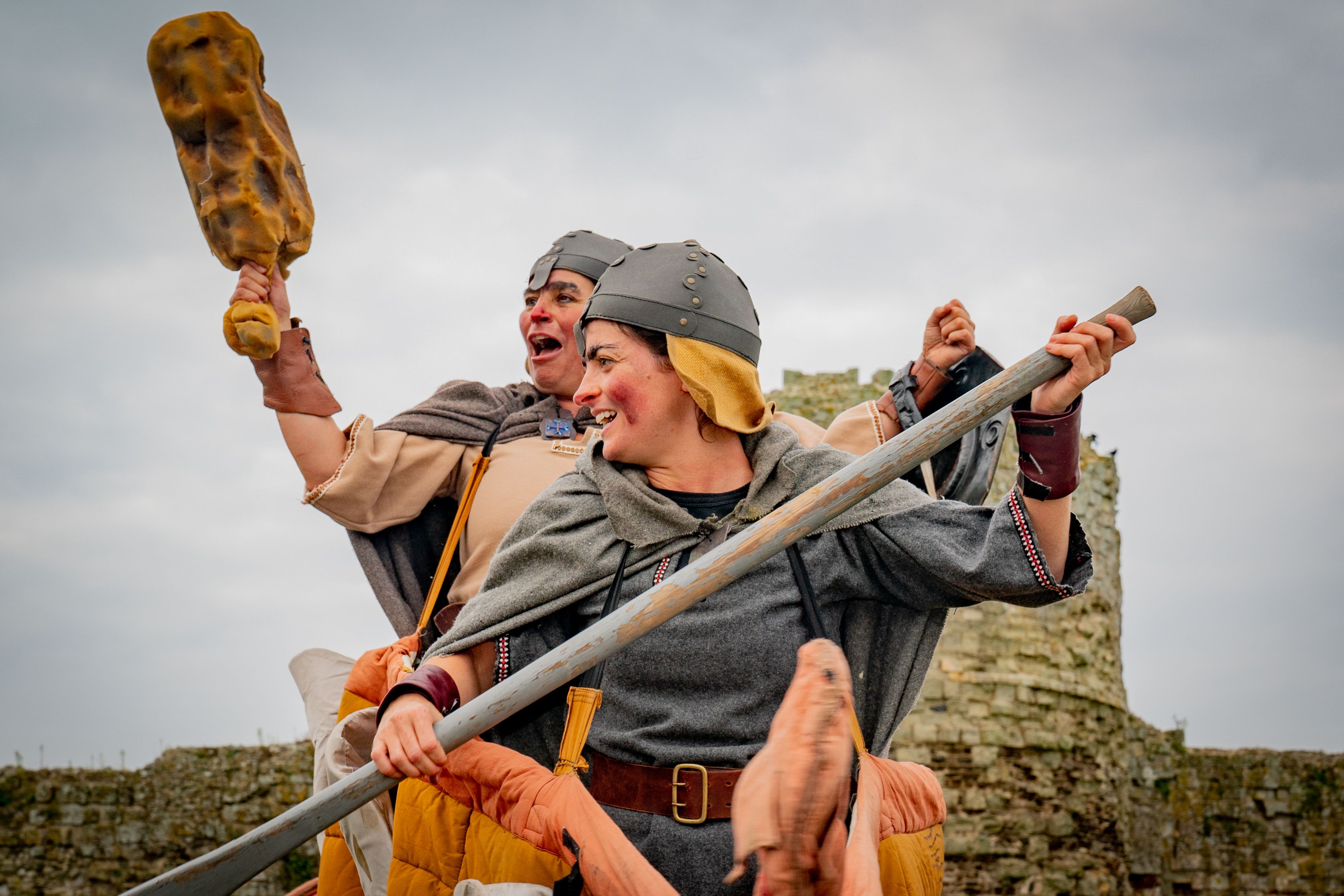 Circo Rum Ba Ba performers land at Pevensey.
On Friday, September 17, launch events took place in Pevensey, Battle and Rye to celebrate the completion of the project with fabulous launch events produced by 18 Hours Ltd on behalf of the project.
Cllr Hazel Timpe, Rother District Council's portfolio holder for communities, culture and tourism, said: "This is a fantastic rural project which will improve this historic walk as a visitor attraction and have a positive impact on businesses engaged.''
"The additions to the historic route, including the amazing sculptures, a new illustrated walkers' guide, benches and information panels will encourage more people to visit, enjoy some beautiful countryside and learn more about the incredible history of our 1066 Country area."
East Sussex artist Keith Pettit, well-known for his wooden sculptures and engravings, has created a fabulous Bayeux Tapestry themed trail, with 10 sculptures at key points along the route.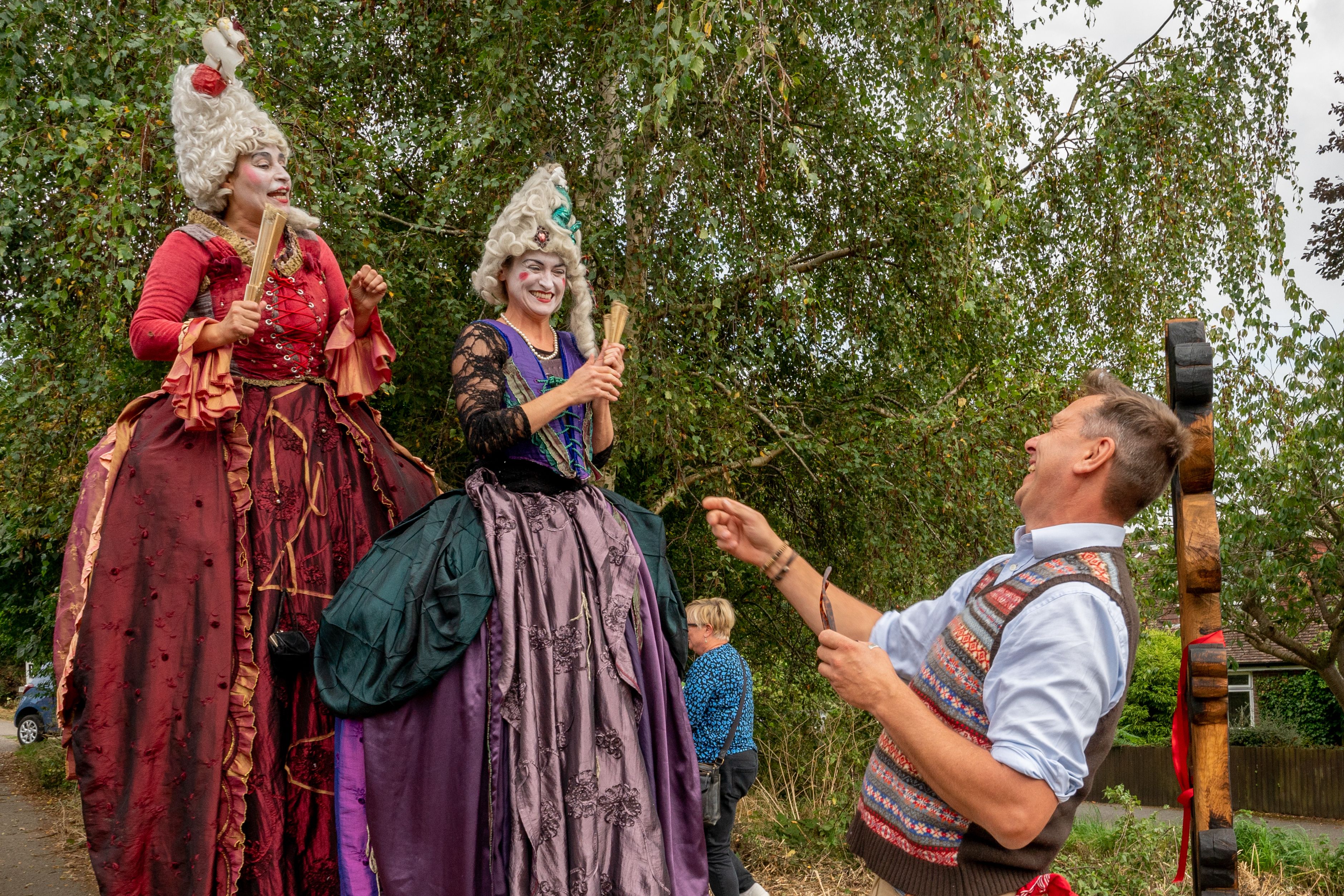 Circo Rum Ba Ba performers greeting scultpor Keith Petit in Rye.
Keith said: "It has been brilliant to be able to let my imagination run on such a large project. It's a relief to see ideas that have been such a big part of my life for so many months now come to fruition."
"This has been the most phenomenal opportunity; to be involved in something that has always been a part of my life, growing up in the area. I was always fascinated to hear the stories of the conquest as a child, it seemed almost every beach or hill had the ghosts of that time still lingering on. It always felt so vivid."
"I took my inspiration from the stories I had been told, from the history of the local area and from the surroundings, and I hope that people are excited by the work and that the sculptures inspire others to tell stories about the land and its history."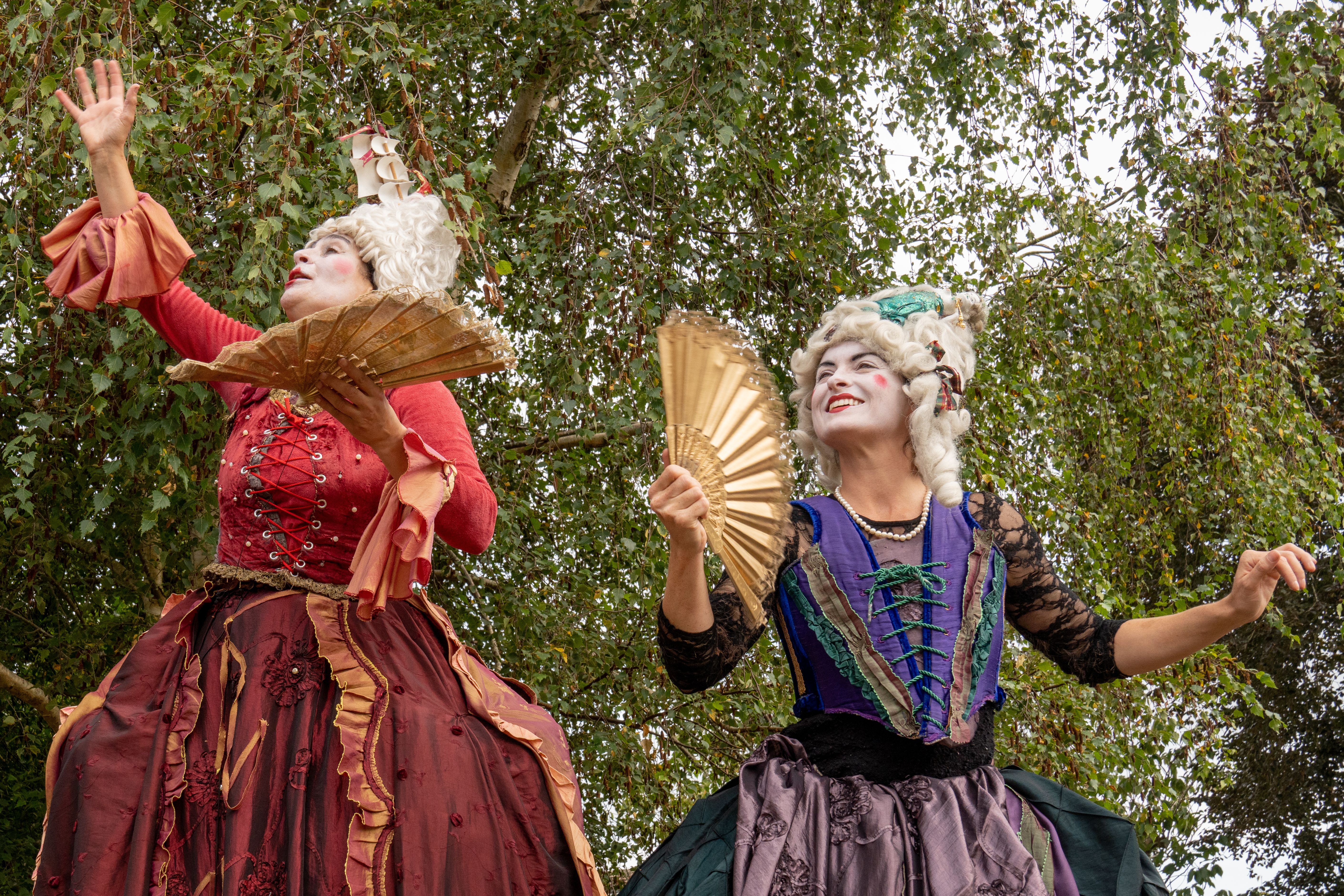 Circo Rum Ba Ba
The walk takes in historical sites and ancient towns and villages, travels over hillsides and through woodland and passes oasthouses and windmills. It includes the Normans' landing point at Pevensey, the nearby castle and the Battle of Hastings site at Battle.
Crossing Pevensey Levels to Herstmonceux Castle, it skirts Wartling Wood to Boreham Street before turning east, visiting Catsfield and Battle before heading to Westfield, Icklesham, Winchelsea and finally Rye.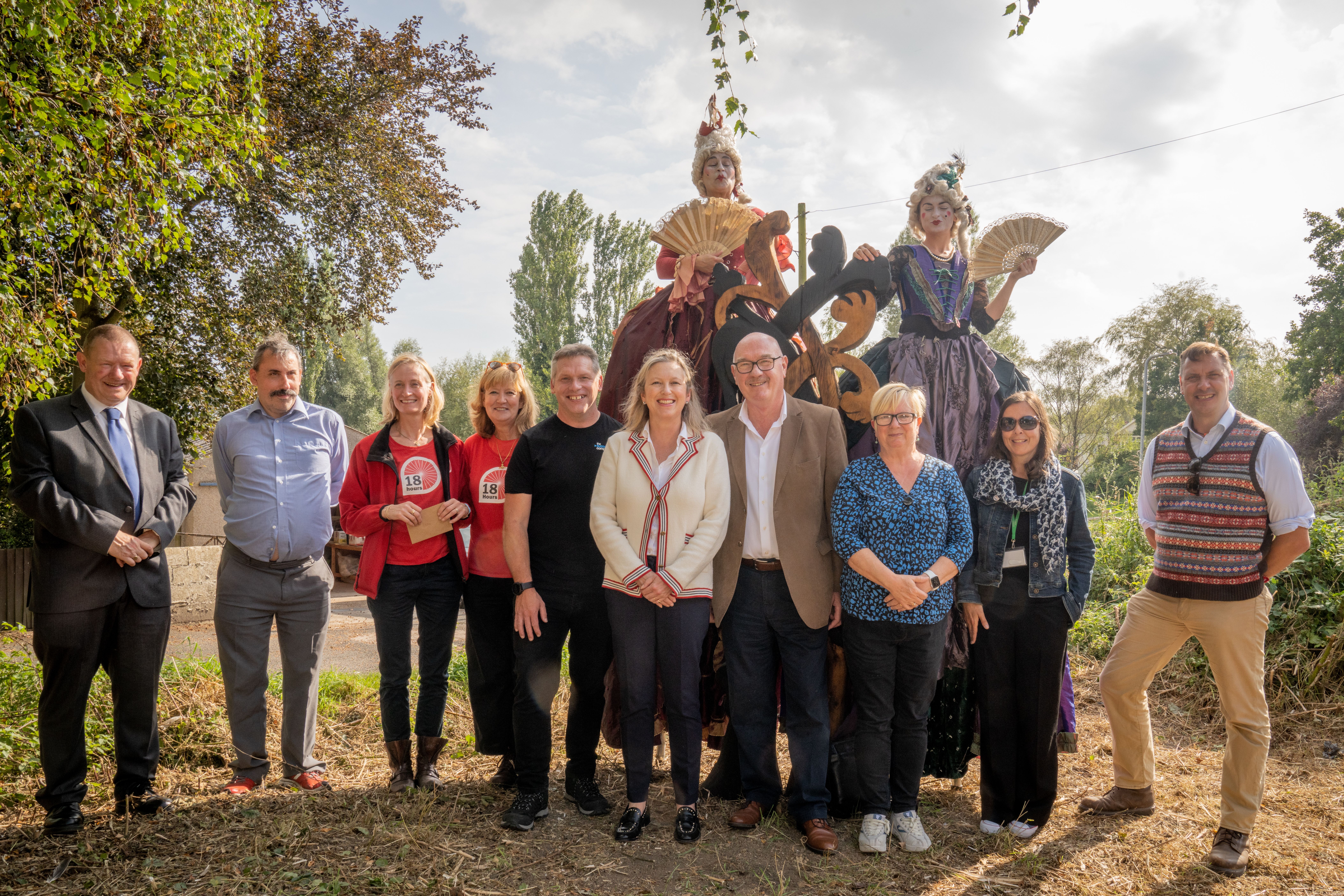 Guests and organisers at the launch, from left to right: Kevin Boorman (Hastings Borough Council), Richard Standing (EAFRD Funding representative), Naomi Robinson and Mandy Curtis (18 Hours), Andy Gomm (The Sussex Sign Company), MP Sally Ann Hart (Hastings and Rye), Malcolm Johnston (CEO, Rother District Council), Cllr Christine Baylis (Rother District Council), Donna Hall (Rother District Council) and Keith Petit (sculptor).
Project Lead, Rother District Council (RDC) Cultural Development Officer Donna Hall wishes to thank the invaluable support of commissioned Project Consultants, Naomi Robinson and Mandy Curtis of 18 Hours. Also sculptor Keith Pettit, illustrator Ness Mann and designer David Lavelle. Dan Roberts, Andy Gomm and the team of The Sussex Sign Company have worked tirelessly to produce almost 100 pieces of bespoke signage for this revamped pathway.
"The project would not have reached this stage without those landowners, businesses and local champions along the 31 miles that have shared the enthusiasm for this project. We are also grateful for the invaluable expertise and in kind support from East Sussex County Council Rights of Way team." Partners include 1066 Country, English Heritage, Herstmonceux Castle & Science Observatory, Ashburnham Place, 1066 Country Marketing, Wealden District Council, Forestry England, the National Trust.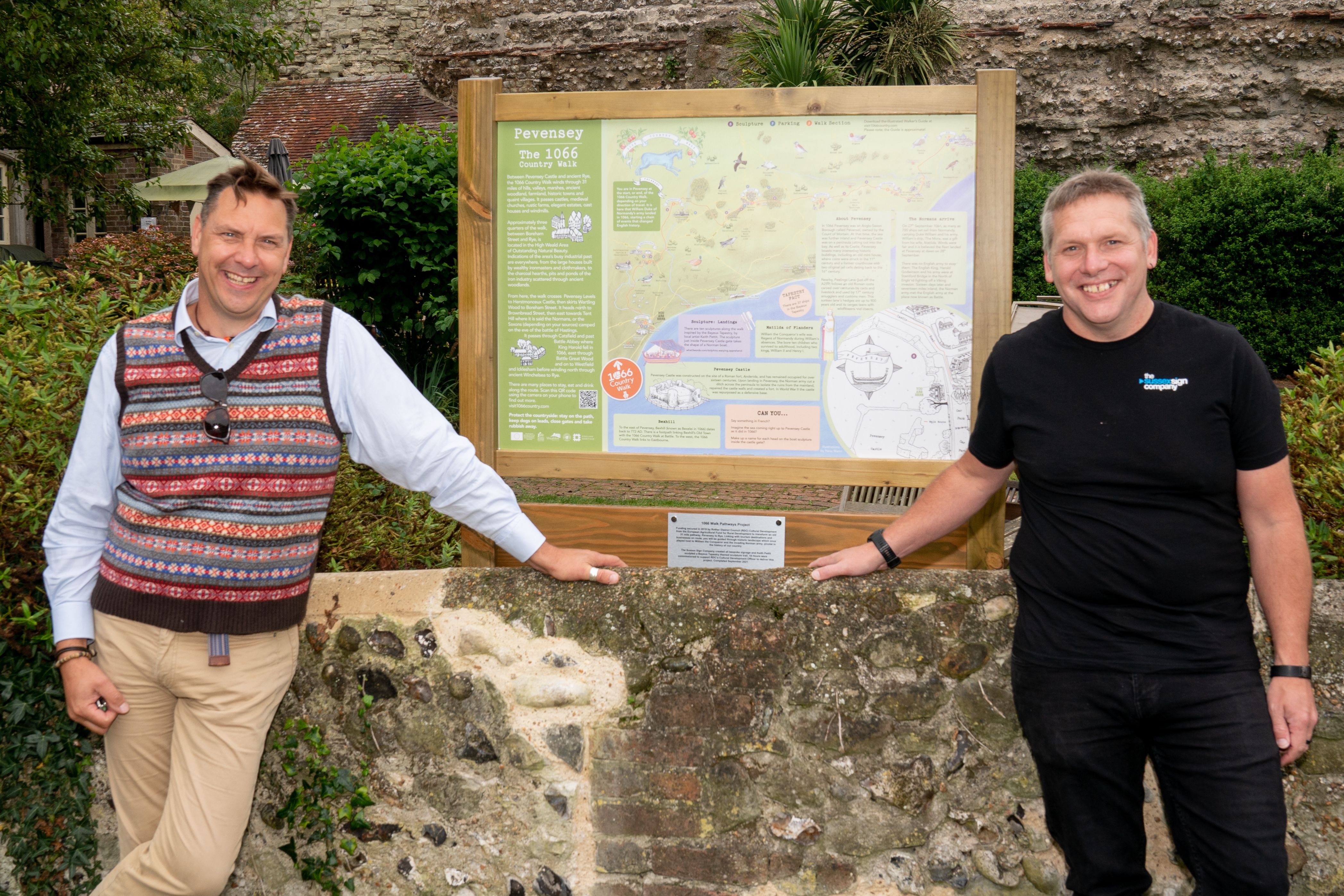 Sculptor Keith Petit and Andy Gomm of The Sussex Sign Company with the new information panels.
Related