As part of the Official Tunbridge Wells #staycation series, we were invited by Stephen and Jane to experience Downash Wood, where they have created a family retreat including treehouses and log cabins. Their son dreamed of having a treehouse in the woods so they went about creating it and spent the last three years building these unique and beautiful spaces for guests to enjoy. We share the experience of our stay…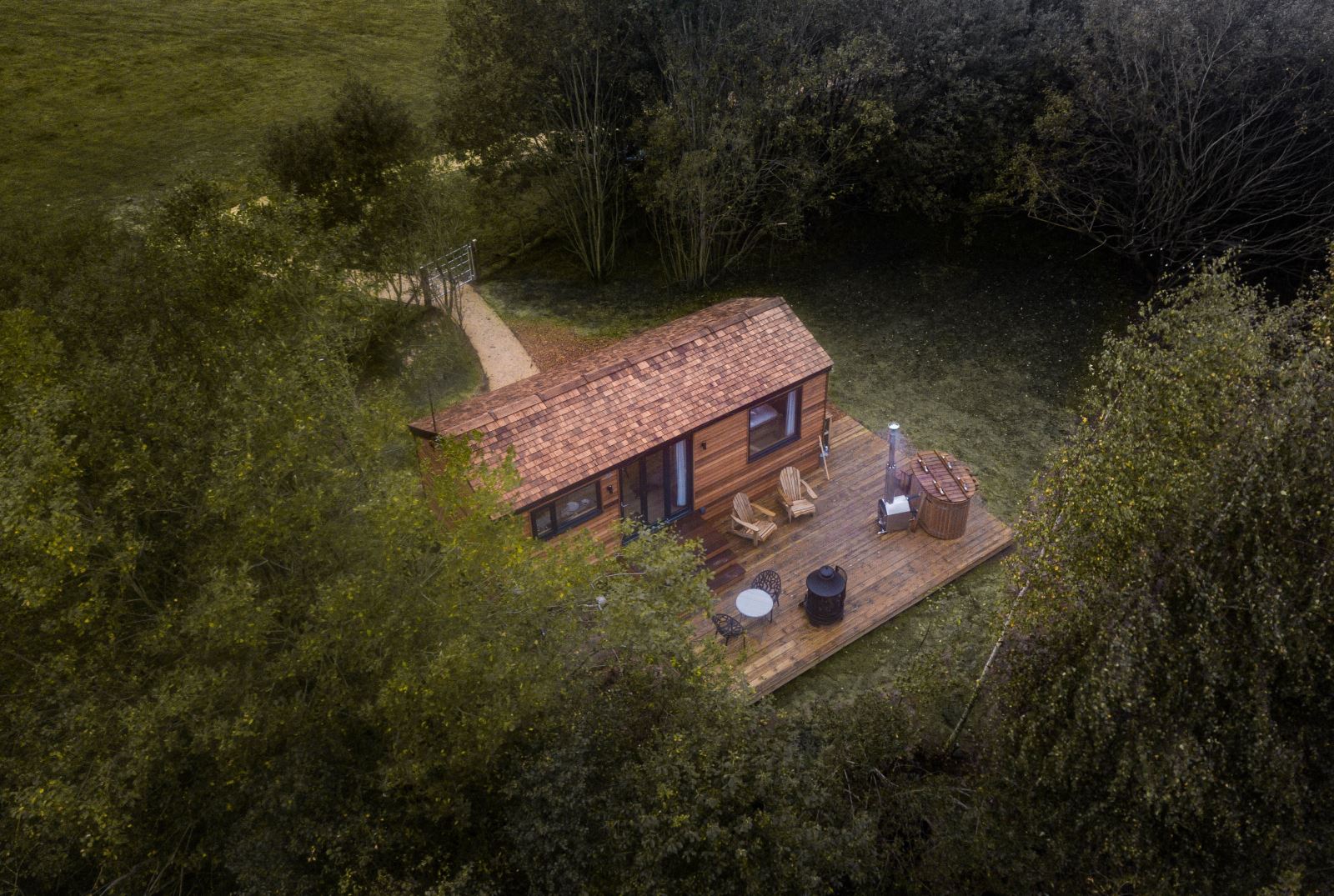 We arrive in Ticehurst, and follow signs to Downash Wood, we travel down the narrow one-way track across farmland into dense woodland and park up. After unloading we take a short walk through the trees and fields to our home for the night, Coddiwomple Cabin is a private lodge situated on the outskirts of Bewl Water countryside.
It is completely secluded and self-contained, we felt like we are escaping it all as we discovered everything the cabin had to offer. Inside is a kitchen area with an oven, hob, fridge freezer, en-suite bathroom, and small lounge area. The beautifully made king size bed invited you to jump in and never leave, this cozy cabin is a home from home with all the mod cons you would expect in a hotel.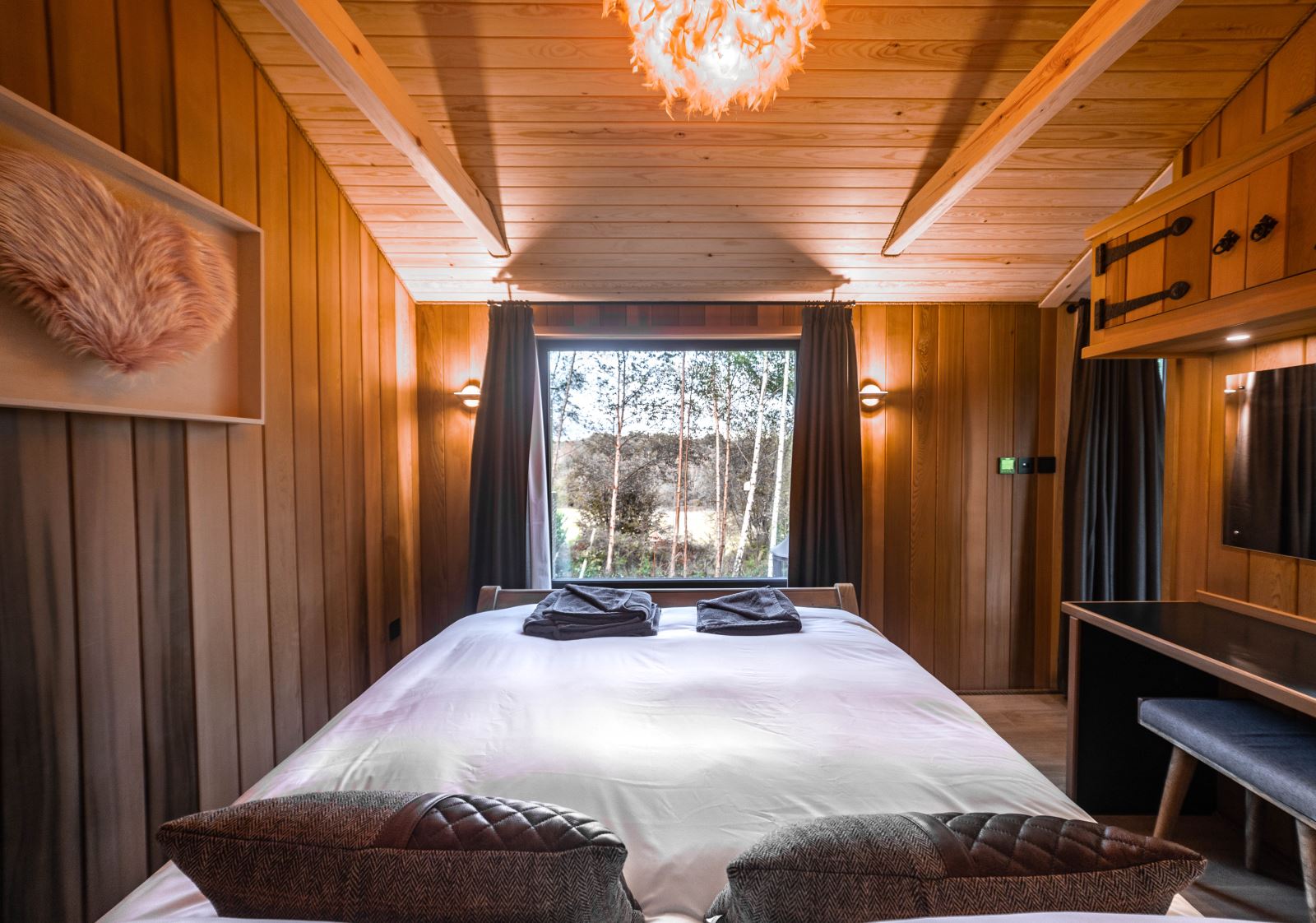 Our private decking area looked out across reaching views of the countryside and all to be heard were the sounds of birds and sheep. We spent the evening sat around the fire pit and lit the wood burner to warm the water for the hot tub. We enjoyed dinner alfresco (even though it was November) and chatted the night away under the stars…. we even forgot to jump in the hot tub!
In the morning we woke to the sounds of nature after a very good nights sleep, the bed was incredibly comfy and warm. The curtains go back to reveal the picturesque view of towering trees, birds on the feeders, sheep, and horses in the fields nearby. We had been left a welcome pack that has coffee from the local roastery, Bean Smitten… with the cafetiere brewing we decided now was the time to enjoy the hot tub. To our surprise, it was the perfect temperature after being warmed up the night before.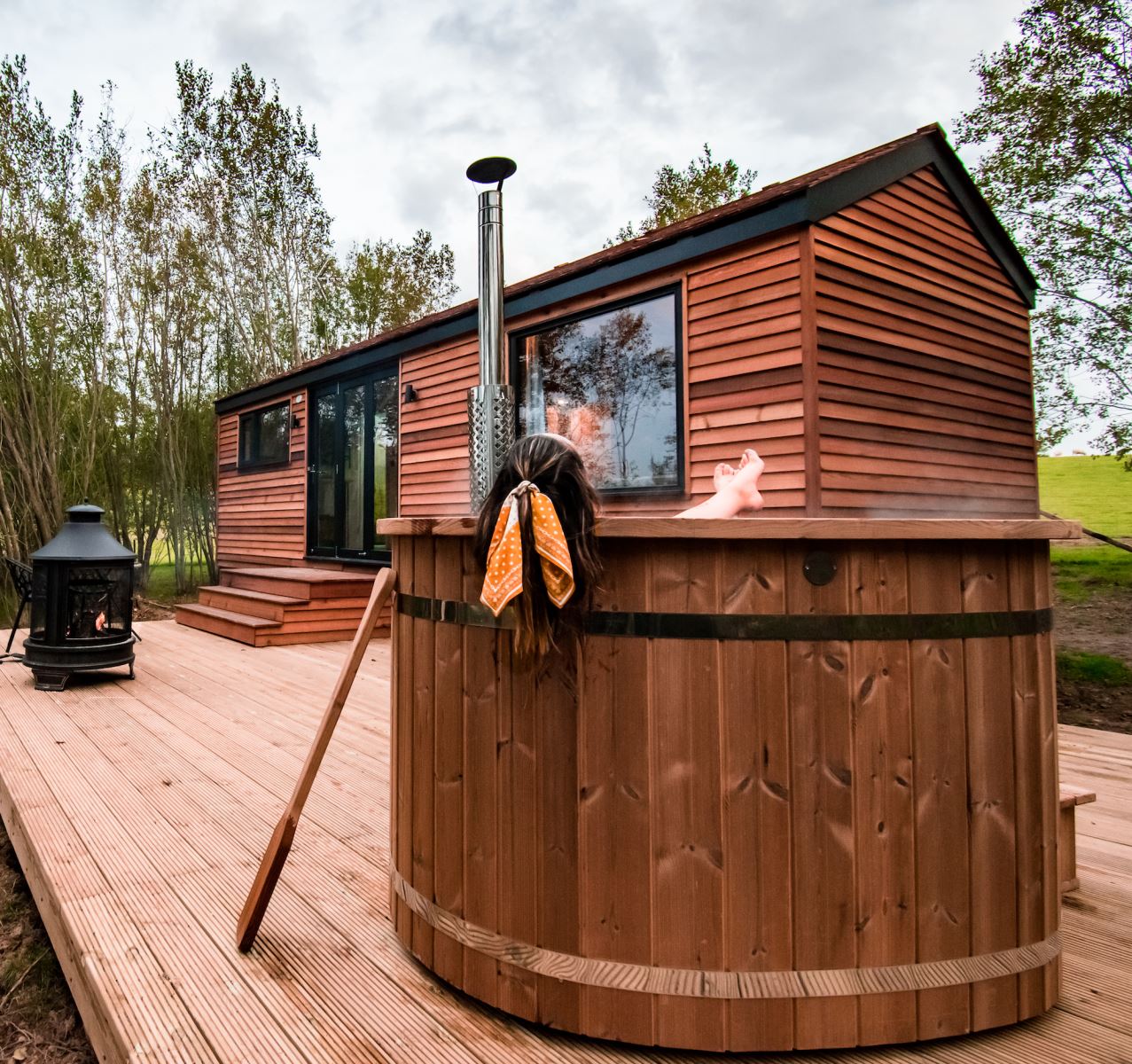 After breakfast, we explored the surroundings; only a few steps away from the entrance of the cabin we found ourselves on a path leading towards Bewl Water (the largest reservoir in the South East). The area offers lots to do with fishing, water sports, bike hire, an aqua park, and walking all available in the beautiful East Sussex countryside.
We highly recommend staying at Downash Wood and would not hesitate to return. A simple, yet super stylish and luxurious way of glamping. If you are looking to get back to nature, slow down, and take a relaxing break, Downash Wood is a must.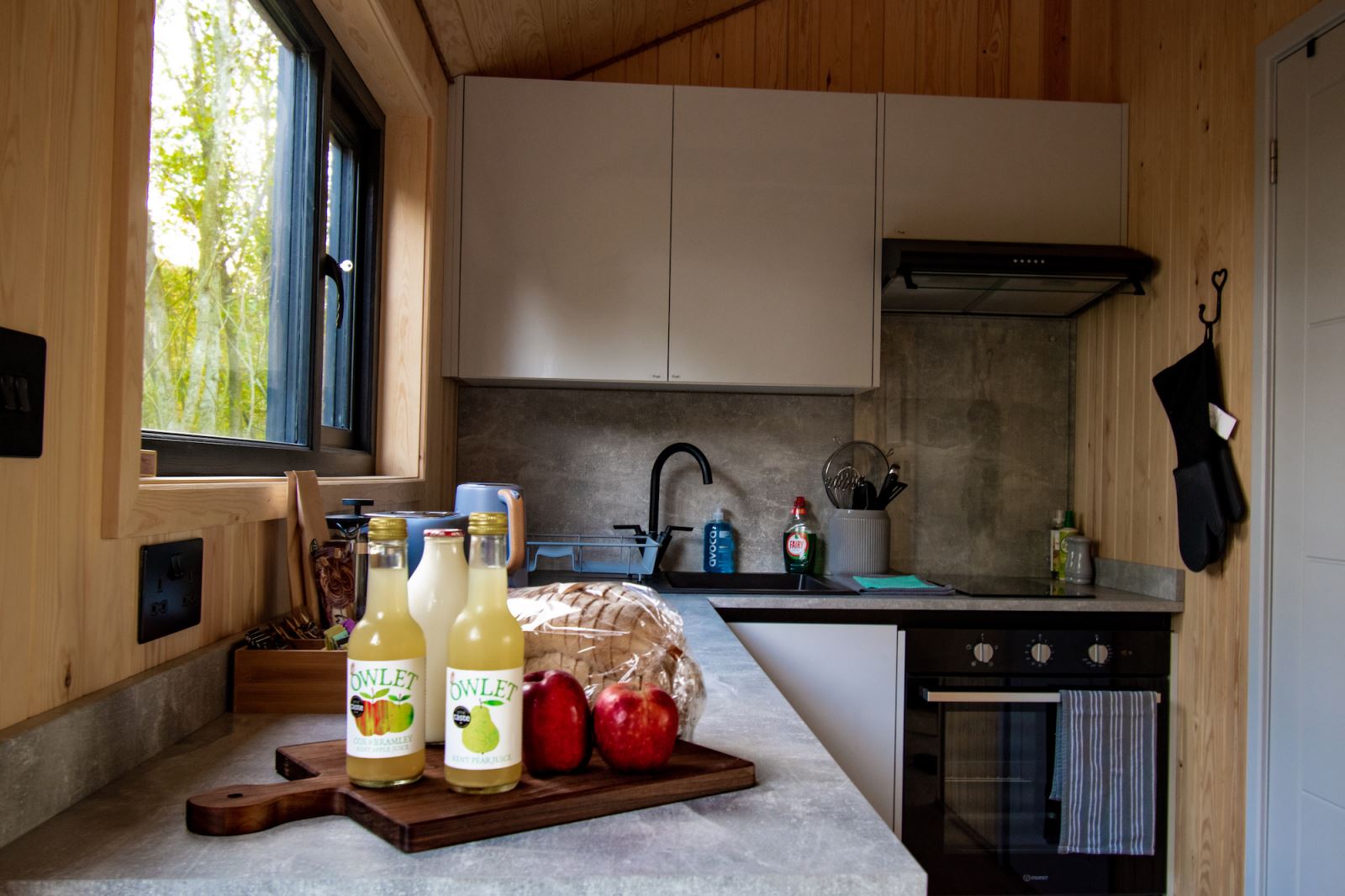 Remember to bring your own food and drink, however, all cabins are provided with tea, locally-roasted coffee, and hot chocolate for your morning brew. A locally sourced day or breakfast hamper can also be provided at an additional cost from a fantastic local farm shop called Eggs to Apple. You'll also need a torch, wellies, and/or walking boots for countryside exploring. Wi-Fi is not available and you should definitely make the most of this to completely enjoy the tranquility of the setting (however, depending on your mobile network 3G/4G signal is good).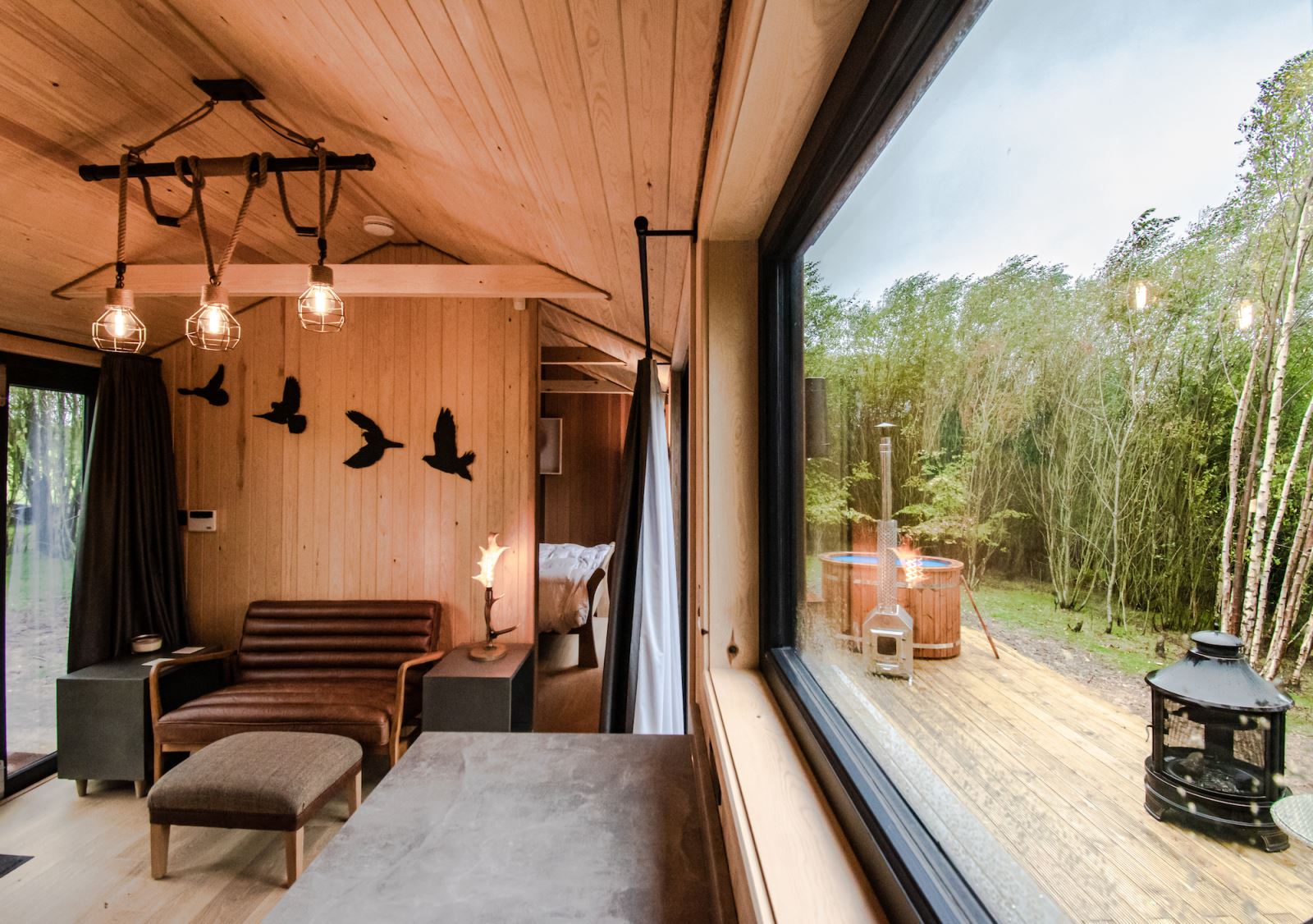 We stayed in the Coddiwomple Cabin, and there are also three other properties at Downash Wood: Tinkers Treehouse, The Oakey Koakey Treehouse, and Willow the Wisp Cabin – visit the website to see them too.
Downash Wood Treehouses gifted our stay with them which took place in November 2020, all Covid-19 rules and restrictions were followed during our stay. We only recommend places we truly believe our readers would love and enjoy.
This is a repost from Official Tunbridge Wells, and the original post can be seen here.
Related