This page is offered as a guide for 1066 Country members only. It is not legal advice.

Copyright

Copyright protects all original works of authorship, including written work, photographs and music. If you create something original (e.g. you take a photo on your phone), you automatically own the copyright for that work. In the UK, copyright remains in place until 70 years after the copyright owner's death.

If the work was created during someone's employment, the copyright owner is typically the employer (unless agreed otherwise).
If the work was created as a commission, the creator retains ownership of the copyright (unless agreed otherwise). When you commission photographs or other content, it's best to clearly agree in writing what you'd like to use the content for (e.g. all marketing purposes including sending to third parties for promotion of your business).

If you're saving images from the internet, or from social media, or elsewhere, it's best to assume the image is copyrighted. You must get permission from the copyright owner to use the image online, in print and/or on social media.
Exceptions

An author may apply a Creative Commons licence (CC) to an original work to allow others to use it. There are different types of Creative Commons licences with different restrictions, some of them only allow non-commercial use (NC). If you're using an image for your business or charity, this counts as commercial use and is therefore not applicable. You must always acknowledge the creator by adding a credit line.
Find out more about Creative Commons licences here.
If you are unsure, always check.
Helpful Tip:
You can filter images in a Google Image search to show only those with a Creative Commons licence. Make your Google Image search as usual. Then, under the search box, click 'Tools' (1) and under 'Usage Rights' (2) click 'Creative Common licenses'. When you click on the image and go to its original page it should tell you what type of Creative Commons licence has been granted for it. This will determine whether it is possible for you to use it.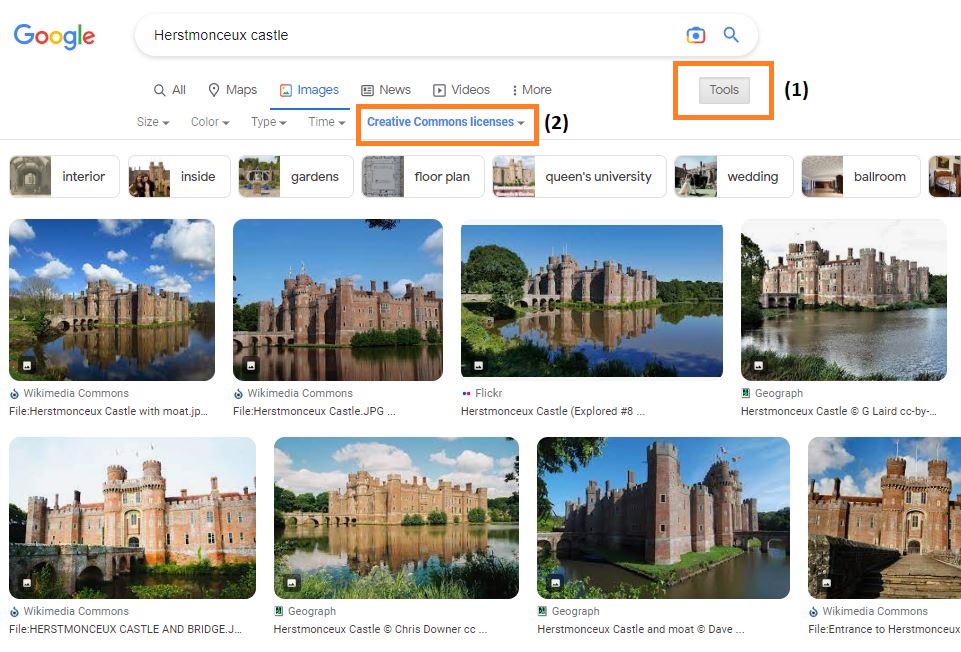 Sharing Media Coverage

Magazines, journals, books and newspaper spreads are all protected by copyright law. This means that you will need to receive permission from the publisher, or have obtained a licence from the below agencies, to share any articles (i.e. press clippings) on your website or on social media, even if you feature in them. This includes quoting the text in the article too.
The best way to share media coverage without hassle is to use your own photograph, then acknowledge the article in your text description and include a link to the original article.

The Newspaper Licensing Agency (NLA) enforce media licensing for the content of many newspaper publications in the UK. The Copyright Licensing Agency (CLA) enforce media licensing for many magazines, journals and books in the UK. If you publish screenshots of articles without permission, these companies may attempt to fine you or insist you purchase a licence.

Model releases

It is always best practice to get signed permission from the identifiable people that feature in your photographs. You can do this by asking them to sign a model release form. This should clearly state the date and location of the photo/media shoot and the intended purpose for this. It should also clearly state that they have the right to revoke this permission at any time. If the person is under 18 years old then a legal parent or guardian will need to sign the form on their behalf.
It is a legal requirement to get permission to photograph someone on privately-owned land.

Useful Links

Copyright notice: digital images, photographs and the internet - GOV.UK (www.gov.uk)
Intellectual property: Copyright - detailed information - GOV.UK (www.gov.uk)
Using somebody else's intellectual property: Copyright - GOV.UK (www.gov.uk)
Intellectual property and your work: What intellectual property is - GOV.UK (www.gov.uk)
Frequently Asked Questions - Creative Commons
Find a licence | PRS for Music