The Winter Giant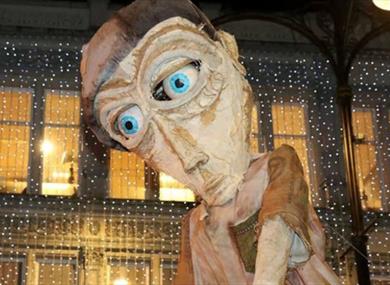 High Street
Battle
East Sussex
A spectacular outdoor event for all that brings music, theatre and a 20ft giant into the town.
Told through large-scale puppetry, live and pre-recorded music, combined with professional and community performance, this heartwarming experience will bring everyone together for a unique and truly memorable experience. Be prepared to be amazed and be prepared for a snowy finale! The Winter Giant tells the story of anyone who has ever been lost or looking for shelter. It speaks of our common humanity, of the importance of a community that welcomes everyone, and of the desire amongst all humans to live in a safe, warm place.
The Winter Giant is a processional event that takes place through the town of Battle, starting at the Recreation Ground on North Trade Road by the Guide Hut at 7.30pm travelling down the high street and finishing on the Abbey Green in front of the Abbey.
This is a FREE event for all the family.