Jack and the Beanstalk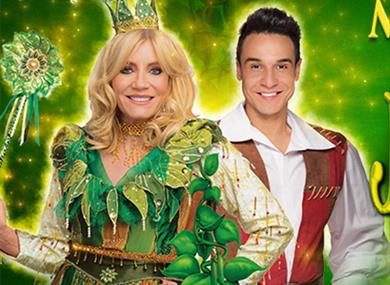 White Rock Theatre
White Rock
Hastings
East Sussex
TN34 1JX
Fe-fi-fo-fum, a giant of a pantomime comes to Hastings in 2018!
Michelle Collins will star as The Fairy and X Factor star Chico will star as Jack in this year's spectacular family pantomime, Jack and the Beanstalk.
Michelle Collins, a household name from her famed role as Cindy Beale in the Nation's favourite soap, EastEnders comes to Hastings this festive season as The Fairy in our GIANT of a pantomime, Jack and the Beanstalk. Michelle, who has appeared in numerous primetime programmes including Real Women, Sunburn, The Sleeper, Two Thousand Acres of Skye, The Illustrated Mum, Coronation Street, Death In Paradise and Doctor Who is sure to wow panto audiences and cast a festive spell this December.
The X Factor's Chico, stars as Jack. Chico shot to fame as a finalist on the second series of the X Factor and with his number 1 single Chico Time. It wasn't long till he dazzled the nation again, this time on ice, with his spectacular routines and reached the final of ITV1's Dancing on Ice. Since then, Chico has mastered his craft on stage, becoming a firm panto favourite and receiving rave reviews.
Join us this panto season as Jack ventures sky high in a pantomime packed full of fun, laughter, special effects, stunning sets, song and dance numbers and plenty of audience participation.