Danny Pockets exhibition at blackShed Gallery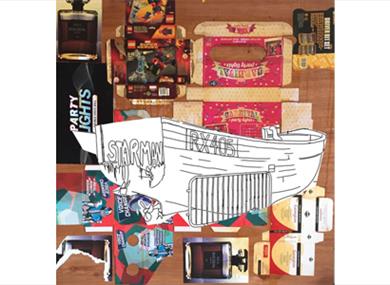 Redlands Lane
Salehurst
Robertsbridge
East Sussex
TN32 5NG
Danny Pockets' work is an aggregation of forms and ideas that transcend the material from which they are constructed. Employing a variety of media from paint on canvas to sound and light. His artworks chart a culture in movement, observe the cancellations left as the landscape remodels itself, objects that slowly rise to the surface, the post-modern sublime.
A graduate of Chelsea College of Art and longtime Londoner Danny Pockets who now lives in Hastings illustrates a novel perspective in his recent works. Pockets work has always started from movement, a drift from A to B connecting up locations, memories and visual images. Since his move to the south coast he has drifted through "RX land" as he puts it, eastwards toward places significant to his early years. In the works that make up 'BLLDZR; and other drifts' there is a sense of a physical journey made in unison with an exploration of the artists own timeline framed by the pop influences of his urban experiences and the inherent networks of modern life.
Pockets paintings use found materials which have a history of their own in order to make works that often depict day to day images such as shop fronts and landscapes. He aims to capture something of the still moments that can arise in normal life and cause a moment of clarity out of the chaos and movement in which we often find ourselves.