Blacksmiths on the Beach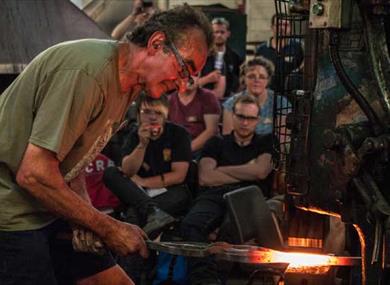 Stade Open Space
Rock-a-Nore Road
Hastings
East Sussex
TN34 3FJ
Hastings-based sculptor Leigh Dyer, in collaboration with the British Artist Blacksmiths Association (BABA), will produce a new piece of public art at a live blacksmithing event on Hastings Stade this month.
The thrill of seeing craftspeople shaping hot iron, the smell of coke fires and the noise of hammers on anvils will combine to produce terrific theatre. The event will include opportunities to try your hand at forging, including a fully safe children's forge.

The forging event will take place between Friday 8 to Sunday 10 July.
On Friday - 12noon - 6pm.
On Saturday - 9am-7pm.
On Sunday - 9am-4pm.
The parts will then be taken away and formed into the finished work, which will be unveiled during the festival, on the seafront by Alfred Place.
The decoration on the sculpture, which will rise like the prow of a Norman longboat out of the shingle, is inspired by the development of the English language through the integration of Norman French and the progression from a largely spoken to a written culture.
A time capsule has been incorporated into the top containing letters from local residents and businesses to friends, family and the community, to be opened in 2066 on the 1000th anniversary.
Part of the ROOT1066 Festival