Battle Medieval Fayre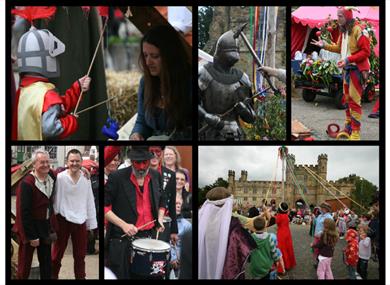 Battle Abbey Green
Battle
East Sussex
TN33 0EN
MEDIEVAL MADNESS RETURNS TO BATTLE at the Battle Medieval Fayre. The costumes are ready, the maypole has been woken from its hibernation, and the exhibitors and entertainers are all booked!
New for 2019, fire eaters Smoke and Mirrors explode onto the scene! Battle's popular Fighting Knights are back and our local jester, Devil Sticks Peat, will create mayhem with a mix of juggling, jesting, and general tomfoolery.
Medieval warfare and surgery techniques are demonstrated by Hands on History, and you'll be able to try on suits of armour for yourself. Watch the parade and crowning of the May Queen on Monday.
Try your skills at pottery; learn how to make yarn from Battle's wool shop 'Needle Meets Hook'; our lace makers will be back too. Play some of the new games on offer this year, as well as old favourites. Barbecue, spit roast and Battle Cider are some of the local culinary delights on offer.
Follow our jester's example and have a wander around Battle's lovely High Street while you're in town. See if you can solve the riddles in the leaflet while you go round 😊
FREE ENTRY
Find us on Facebook or contact medfayre@battleevents.org.