1940's Weekend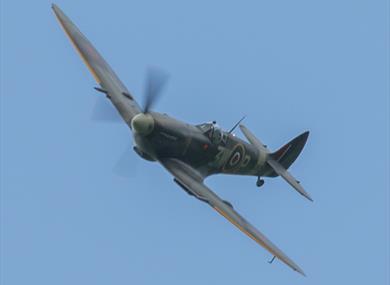 Kent and East Sussex Railway
Station Road
Tenterden
Kent
TN30 6HE
Another action packed 1940s weekend at the Kent & East Sussex Railway

Magnificent steam trains will be joined by a Spitfire flying display, vintage military vehicles and even an appearance by Winston Churchill at this year's Kent & East Sussex Railway 1940s weekend.
Visitors will be given their own identity cards and can enjoy unlimited travel for the day, with steam trains running every 45 minutes between Tenterden and Bodiam. There is a packed programme of events at both stations and parking is free at Tenterden and Northiam.

Steam locomotives scheduled for the event, on19-20th May 2018, include USA tank engine WD300 'Frank S Ross' of the Longmoor Military Railway and Austerity tank engine No 25 'Northiam'.
Spitfire displays will take place at the Railway on both days, subject to weather conditions.
Churchill will not be the only character paying a visit - Viv the Spiv can be spotted with his black-market goods. A variety of attractions are planned for each station, and re-enactors and 1940's singers will be performing throughout the weekend. Activities at Tenterden Station include singing from popular 40's group 'My Favourite Things', Swingtime Sweethearts and energetic dancing from the Cinque Ports Lindy Hoppers. Visit vintage stalls selling authentic 40s clothes and accessories and perhaps book an appointment with the guest hairdresser to complete your 1940s makeover (additional cost applies). Learn how Air Sea Rescue helped airmen forced to ditch in the Channel and talk to the ARP Air Raid Precaution teams for an insight into life on the home front. Peruse the collection of vintage military and civilian vehicles.
At Bodiam Station there are interactive land army displays and activities. Re-enactors and military and civilian vehicles all add to the atmosphere. Explore the Desert Rats encampment display filled with authentic kit, weapons and jeeps. Listen to popular tunes from the era sung by two 40's singers Adam Hoffman and Miss Holiday Swing.

A fully packed event not to be missed.