World Crazy Golf Championships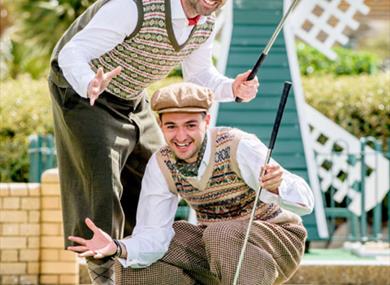 Hastings Crazy Golf Course
Seafront
Hastings
East Sussex
TN34 3AJ
Entry is now open to anyone who fancies their chances in the 2017 World Crazy Golf Championships – with a £1,500 prize pot exclusively for novice players.
The Championships runs on June 10 and 11 at Hastings Adventure Golf and uniquely attracts complete novices and top international players. Everyone is competing for a slice of the £4,500 prize fund - the biggest ever in the competition's history.
For a shot at the title competitors must beat the windmill and watermill as well as negotiate the bends, twists and ramps on the traditional seaside course - dubbed the 'spiritual home of crazy golf' by the British Minigolf Association.
The overall winner picks up £1,000 and there's an additional £2,000 prize fund for the top players.
Michael Smith, GB, was crowned 2015 champion with an incredible 31 under par result, while the youngest player in last year's competition was Jessica Pilgrim, aged 10. The Czech Republic's Olivia Prokopova claimed fourth place and was the only female in the final round.
There are four rounds on Saturday and a further two rounds on Sunday for all players. The final round on Sunday will be contested amongst the top 18 players.
For an entry form please see www.minigolf.org.uk